Automatic security gates are becoming more and more essential for both residential and commercial properties with playing a crucial role in preventing crime. These automatic gates can be placed in any possible entry point to a residential or commercial property to make it difficult for the intruder to break-in.
Automatic access controlled security gates also help with minimising costs with other types of security measures for your property. You won't need to invest as much money in paying for mobile patrols or a more complex alarm system. Not only does it help with safety, but with the different designs and materials of security gates that are available in the market, you wouldn't have to compromise on the aesthetic angle as well.
Undoubtedly, automatic gates are beneficial to both residential and commercial buildings for access control management into buildings, specific sections/sites, accountability and safety of employees or your family. We have put together a list of different automatic gates, so you can make an informed decision before installing one for your property.
Barrier Security Gates

An automatic barrier gate system uses a bar to block traffic, including human beings, cars, motorbikes and an effective way of regulating entry into a premises. Usually, the barrier has a tip that rises to allow people to enter or exit. Automatic barrier gates are a popular option for parking ramps, office buildings, and airports.
These gates manage vehicle traffic efficiently because they have a rapid, open and close mechanism that is fast enough to operate within a few seconds. The barrier arms, likewise, provide a reliable access control and low maintenance solution for commercial premises.
Automatic Swing Gates

Automatic swing gates are ideal for people who seek durability, speed and aesthetics. They are quick, can be custom made and look great.
Automatic swing gates open in 15-20 seconds, depending on the weight and length of the gate. Some swing gates come with a 24VDC motor and backup power batteries, which becomes useful in the event of a power outage. Automatic swing gates are a popular option for residences.
These gates use an automatic operating system that opens the security gate by swinging inwards and keeping it open for a few minutes to allow people or vehicles to come in. Likewise, the operating system closes the gate by swinging back to the previous position. The opening arm of the gate is connected to the operator, which forces it to swing appropriately.
Automatic swing gates are great for handicap accessibility too.
Unlike sliding gate systems, automatic swing gates have fewer moving parts, which leads to less wear and tear.
These gates are usually available in timber and aluminium and can be custom designed to suit your needs and overall look.
Automatic Sliding Gates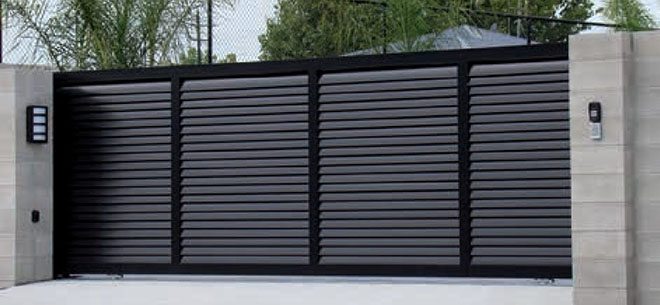 Automatic slide gate systems, also known as slide gate operators, are common in New Zealand. People use them for their residential and commercial buildings. They are an excellent choice for your driveways or properties that are short of space. Sliding gates are beneficial when your property has steep grades that don't work well with swing gates.
Automatic sliding gates use gate roller guides, which keeps it upright. It also uses V-groove wheels on the track and a mooring point to stabilize the system in the closed position. There are usually two types of sliding gate installations available in NZ.
The first one is standard and known as the front mount, and the other one is end-of-track, which is the rear mount. With the front mount sliding gate, the installer mounts the operator by the gate opening. It means the chain is visible on the inside of the gate.
Likewise, the end-of-track or rear mount requires the installer to use an additional chain. The benefit of the end-of-track mounted installation is that the chain and operator are out of sight, which makes the entire system more appealing in terms of visual appearance.
Turnstiles Security Gates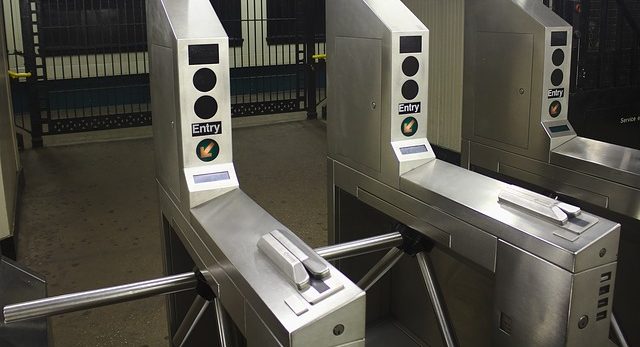 Turnstile gates are used to secure entry and exit points and can be one-directional or bi-directional. It is a type of automatic gate composed of a barrier, which opens on a hinge.
It is a system designed to restrict access to only one individual at a time. It is an automatic gate system that gives access to people with correct credentials, coin, ticket or a pass.
These types of gates are usually used to protect high-security workplaces from unauthorised personnel or visitors and detect tailgating.