Why do some NZ crane operators prefer a Kobelco crawler crane over a Manitowoc crawler crane? What is it about them that makes them so popular? On the other hand, why do others swear by their Manitowoc and purchase them time and time again?
In this article we will look at their various advantages. But first, what is a crawler crane?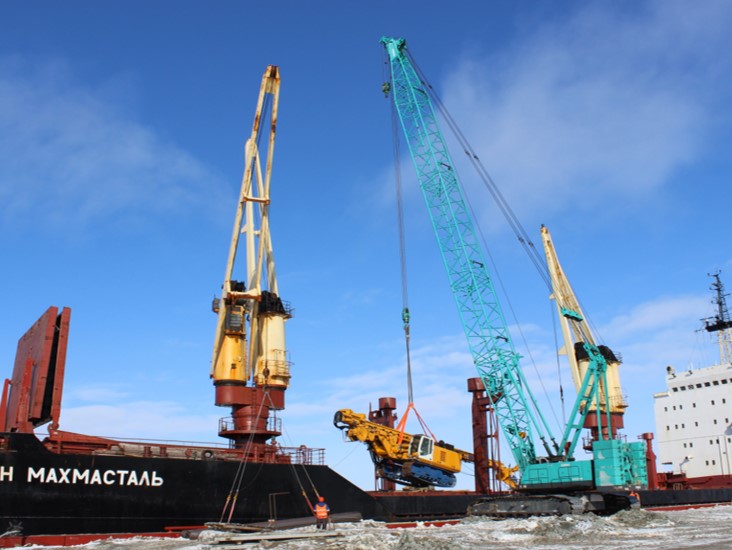 Crawler cranes are so named, because they have "tank" or "excavator" tracks mounted on their undercarriage, for "crawling" around a construction site. The tracks provide both mobility and stability. The wide tracks spread the weight of the crane over the ground more evenly and effectively than wheel, and so do not sink, even with significant weight. They are able to move across the ground, even when they are lifting heavy weights. 
Crawler Cranes are the largest of the mobile cranes. They are usually used on construction sites and can lift in excess of 2500 tons. Perhaps the majority of crawler cranes are smaller than this and lift between 100 and 750 tons.
Due to their size they transported by truck on specially manufactured crane trailers, and assembled on site. Assembly can take a week, or even longer with the largest cranes. and can include: 
Attaching the tracks
Assembling the lattice boom
Addition of counterweights
The Kobelco crawler crane in the picture above has a lattice boom. Some cranes, like the one below, have telescopic booms that extend as needed. Lattice booms can lift and carry heavier weights, and higher, than cranes with telescopic booms.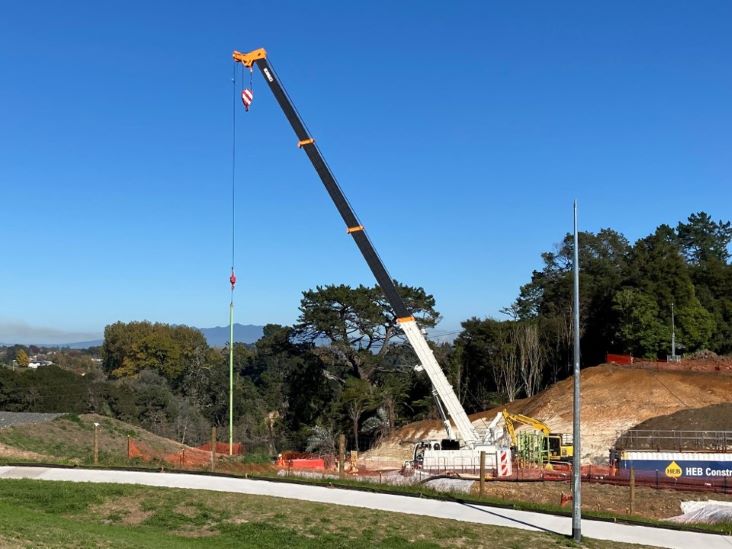 Why do people buy Kobelco crawler cranes?
Apart from their reputation for quality and capability, Kobelco are known for a few very relevant and sought after features.
Environmentally Friendly
Kobelco have placed considerable emphasis on lowering both fuel consumption and Co2 emissions. 
Their G-Winch allows the line to be raised or lowered at high speed without also raising the engine speed, where the is little or no load on the line. Keeping the engine speed constant reduces both fuel consumption and Co2 emissions. 
Kobelco also apply this principle when lifting. The engine speed is limited without reducing hydraulic pump capacity. The engine is also capable of stopping automatically when there is no lifting or moving activity taking place. Activity involving the accelerator turns the machine on again without needing to manually restart.
On top of these features, Kobelco have developed cleaner diesel engines, better exhaust systems, and eco-friendly hydraulic bio-oils
Low Maintenance Cost
The Japanese manufactured Kobelco crane brand has a huge international reputation for having high quality design, construction, and manufacturing processes that have resulted in superior uptime and lower maintenance costs for customers.
Kobelco is well known as one of the global leaders of lattice-boom crawler cranes, and has the lowest cost of ownership in the market.
Over the life of the crane, Kobelco crane owners enjoy the cost-saving benefits of:
Less Downtime – less repairs and replacing of parts over the lifetime of the crane
Low Maintenance Costs – easiest machines in their class to maintain
Lower Transportation Costs – lowest cost of transportation in the industry due to the design and configuration of the crane
Transport and Assembly
A new design combines strength with reduced weight for crane components such as swing frame, crawler frame, and lattice boom. This combination gives superlative lifting capacity in strong zones, and opens up a wide range of possible applications with either standard or light configuration. Where lifting performance is the priority, standard configuration delivers powerful, efficient crane operations.
Light configuration allows a range of applications to match the job, while cutting transport costs and shortening assembly/disassembly times. The options of high performance or easier transport offer efficiency on the job and big savings.
The upper frame has been newly designed to increase sectional strength and optimize the frame's stress capacity. This enhances rigidity while reducing weight.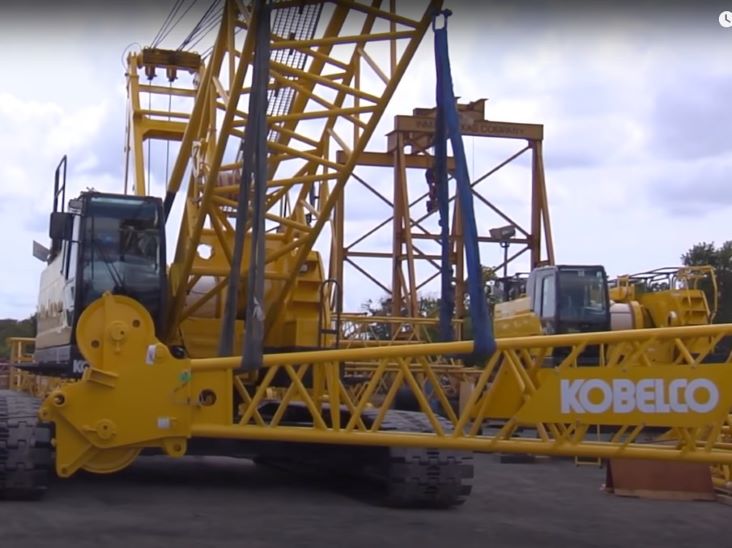 Troy Hand of TRT Australia comments that, "The clever design and construction of Kobelco crawlers has revolutionised the transport and set up in this class. Kobelco have developed lighter weight upper frames for the crawlers using high tensile steel in their construction. Its lighter than others in its class.  The width of these cranes are also designed to be easily transported, the boom and jib are shared, and the boom is nested.  They are less than three metres wide, reducing the overall footprint of the crane. All of these transport advantages also mean that they need less storage space.
He goes in to explain that the Kobelco CKE crawlers are designed for self-assembly and disassembly, so you don't need the assistance of another crane, which also reduces the amount of manual work required. 
Why do people buy Manitowoc crawler cranes?
We have seen that Kobelco has a reputation for being reliable, low cost, eco friendly, and easy to assemble. Its fair to say that Manitowoc have their only rock-solid reputation. They both have crawler cranes in the same apace with similar capability. 
So what is it that sets Manitowoc apart for some operators?
American Made
Are we allowed to say this, in this day and age? 
This distinction is fading over time, as Japan continually produces high-quality cranes construction equipment of all types. But still, some people have grown up with American made being the standard. So they come back to Manitowoc again and again. 
Its a perception of higher quality, and not many decades ago, this would have been true. I think over time though, that many people have come to accept that Japanese manufacturers have equaled and in some cases, even exceeded the reputation for quality steel and manufacturing.
Computer Systems
One of the reasons operators love Manitowoc crawler cranes is the control system.
The Manitowoc Crane Control System (CCS) offers a user-friendly interface with two full graphic displays mounted horizontally for better visibility.
It also has a jog dial for easier data input and ergonomic joysticks.
Operators no longer need to stretch for controls to complete operations because everything is in reach.
In addition to the usability and comfort, fleet owners with multiple Manitowoc Cranes will find moving operators from one machine to another is a seamless process.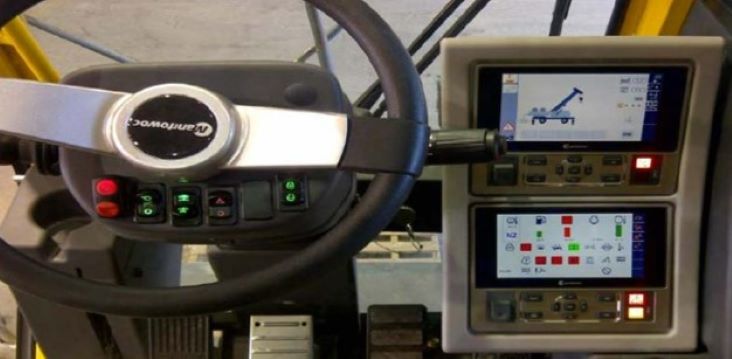 Reduced Footprint
Unlike some other crawler cranes, the Manitowoc cranes have either fixed-position counterweight or Variable Position Counterweight that are closer to the machine. This reduces both the on-ground footprint and tail swing, meaning that less space is needed for operation.
Jason Ruggles, director of crane operations for White Construction explains why they choose Manitowoc. "We chose the MLC300 FPC because of its extra capacity compared with competing lattice boom crawler cranes," said. "Combined with its smaller footprint, the crane enabled us to easily maneuver around the hilly terrain of the wind farm and complete each lift."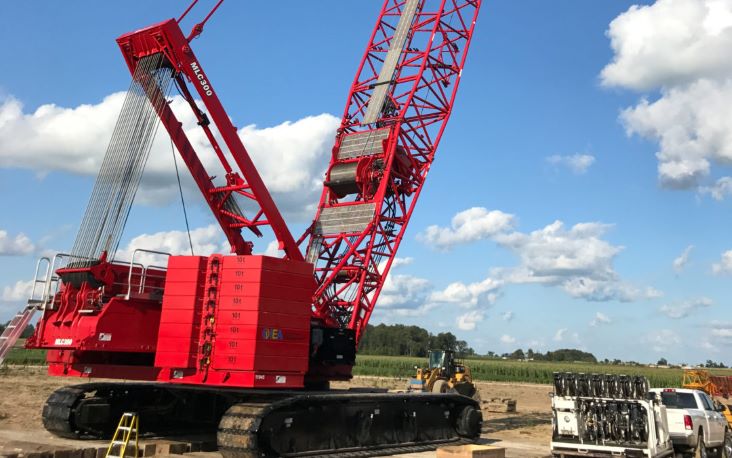 Likewise, Joe Ruddell, sales manager of the rental division at the Dawes Milwaukee location, said Manitowoc offered unique advantages that no other crane could replicate.
"One big challenge is the limited space we have to situate the crane in, along with having to move the crane from one location to another in a limited amount of time over uneven ground conditions," he explained. "The MLC300 offers a smaller footprint than other crawler cranes and its Variable Position Counterweight (VPC) system is perfect for this job. The reduced footprint and added stability really matter when the crane is sitting on limited real estate between eastbound and westbound lanes of the freeway with traffic whizzing by."
Conclusion
Clearly, both manufacturers have crawler cranes that will do the job.
But they also have features that set them apart. Ultimately, each fleet manager will decide based on merit and their specific context.