Many small businesses have a love/hate relationship with professional services. We know there are many excellent lawyers and chartered accountants in Tauranga, and we know they save us money in the long run. But it's still money, right? How do you know they will provide the services you need without costing the earth?
So, here'a a list of awesome professionals in Tauranga that we are happy to recommend. We have chosen these professional services based on the following criteria:
Qualified and experienced
Reputation for adding value 
Affiliated with relevant professional bodies
Range of services offered
Technology & software
Mindtools state that, Professional services firms exist in many different industries. They include lawyers, advertising professionals, architects, accountants, financial advisers, engineers, and consultants, among others. Basically, they can be any organization or profession that offers customized, knowledge-based services to clients.
That is, they are essentially selling their services, specialised knowledge and expertise, rather than a manufactured product. They are often, but not always, separate of the businesses they serve, because their independence is what enables them to add value.
So, here are for professional organisations that we recommend from Tauranga.
Auctus are Chartered Accountants in Tauranga, on a mission to help you grow, and guiding business to reach their full growth potential.
Many people have the perception that Chartered Accountants simply help businesses with their end-of-year financial statements, tax obligations and GST returns. While this is true, Auctus is about much more than basic accounting. The team at Auctus are motivated to unlock business growth, help business start-ups achieve their dreams, and unleashing all the potential in more established businesses.
Accounting & Tax
Seek professional advice from Chartered Accountants and tax experts to streamline your processes and meet your business requirements.
Advisory & Innovation
Auctus offer real-world, real-time advice and innovative market responses. They're in this with you – whether it's walking the walk or talking the tech talk.
Specialist Services
Don't worry, Auctus have been there. They can guide you on your growth journey, show you which steps to take and provide expert advice and support every step of the way.
Small Business Accounting
As an owner of a small business you are passionate about your craft – but probably not bookkeeping.
Medium-Large Business
Accounting for medium-large businesses requires a higher level of organisation and information to help make better decisions.
Package Services
To make things easy, Auctus have grouped their services into 4 packages specifically designed to suit different business types and growth stages.
Contact Details
Web:              https://auctus.co.nz/business-location/tauranga/
Email:           tauranga@auctus.co.nz
Phone:           0800 AUCTUS
Address:        Unit 2, 144 Third Ave, Tauranga 3110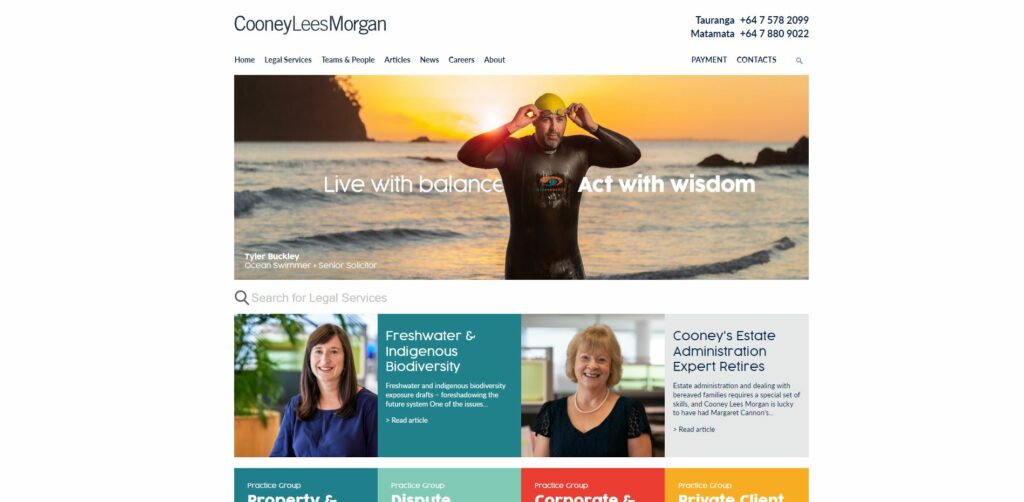 Cooney Lees Morgan is a full service law firm based in Tauranga, New Zealand. Founded in 1918, the firm has grown to become one of New Zealand's leading law firms. Currently there are over 90 staff, including 48 lawyers and 9 partners. The firm is organised into four teams specialising in Property & Development, Litigation & Local Government, Corporate & Commercial and Private Client & Trust. More recently the firm has opened an office in Matamata to serve the greater Waikato region.
The firm's commitment to providing the best legal advice is absolute regardless of scale. Practice teams working collaboratively to provide the best and most efficient service – from the first home buyer to corporates, every client is treated like our best client.

Choosing Cooney Lees Morgan will always mean you have the very best legal team at your side. You will have their full attention, the support of their colleagues and the weight and resources of the Bay of Plenty's best legal firm behind you.
Services
Cooney Lees Morgan have the experience and personnel to take on virtually any legal task. They also have a number of lawyers and teams that specialise in specific areas of law. The following list includes some of their most frequently requested services. Don't worry if what you're looking for isn't listed, with nearly 100 years of law practice under their belt there's a pretty good chance they've seen or done it before.
Agribusiness
Charities / Not-for-profit
Commercial Disputes & Litigation
Commercial Property Transactions
Competition, Fair Trading & Consumer Law
Employment
Finance, Banking & Securities
Governance
Heath and Safety
Maori Business
Mergers & Acquisitions
Resource Management Act
Wills & Estate Administration
Contact Details
Web:              https://www.cooneyleesmorgan.co.nz/
Email:           info@clmlaw.co.nz
Phone:           +64 7 578 2099
Address:        Level 3, 247 Cameron Road, PO Box 143, Tauranga 3144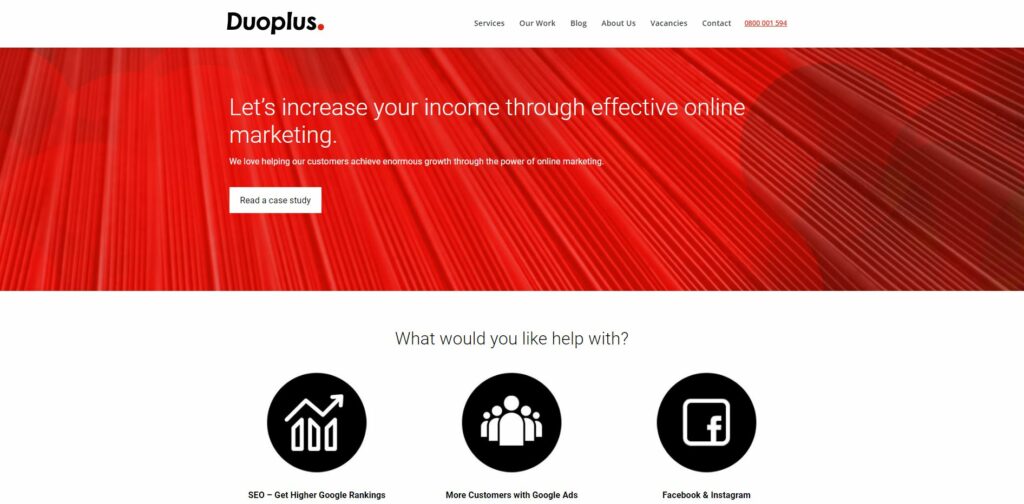 Duoplus are an online marketing agency that loves helping our customers grow their business with strong and effective online marketing solutions.
Duoplus increase traffic to their client's websites by improving search engine rankings (SEO) and running online advertising campaigns using Google Ads, Facebook campaigns, remarketing, and more. Their focus is to generate leads for our clients and grow their businesses.
Search Engine Optimisation
Is your business ranking on page one of Google? If not, you're missing out on clients, and income. According to Google 92% of searchers won't look past page one of the results page.  Duoplus help companies explode their website traffic and their sales by getting them ranked highly in Google for their keywords. 
Google Ads (AdWords)
Are customers searching online for the product or service you offer? Google Ads gets your ads shown on the Google search results page when people search for what you offer. Google Ads are incredibly powerful because of how targeted they are. They connect with your target market right when that person is searching for what you sell.
Remarketing
Remarketing enables you to show online ads specifically to people who have previously visited your website. This includes both text ads and graphical ads, on Google, Facebook, NZ Herald, Stuff and millions of other websites. Remarketing greatly increases brand recognition for your company and can give your target market the impression that you're much larger and dominant than you actually are.
Facebook Campaigns
Facebook is the most powerful social media platform available with over 1.6 billion active users every month. Depending on your business model and target market, Facebook can be an incredibly powerful advertising platform. We can help you use Facebook to get front of your target market, and turn those eyes into income.
Online Strategy
Online marketing is the most powerful and effective marketing available today. But with so many online marketing options available, and the limited resources in your business, you need to choose the options and strategy that will get you the best return on investment. We can help you develop a clever online marketing strategy that will help you beat your competitors.
Contact Details
Email:           info@duoplus.nz
Phone:           0800 001 594
Address:      The Tech Hub, 89 Church Road, Hamilton 3210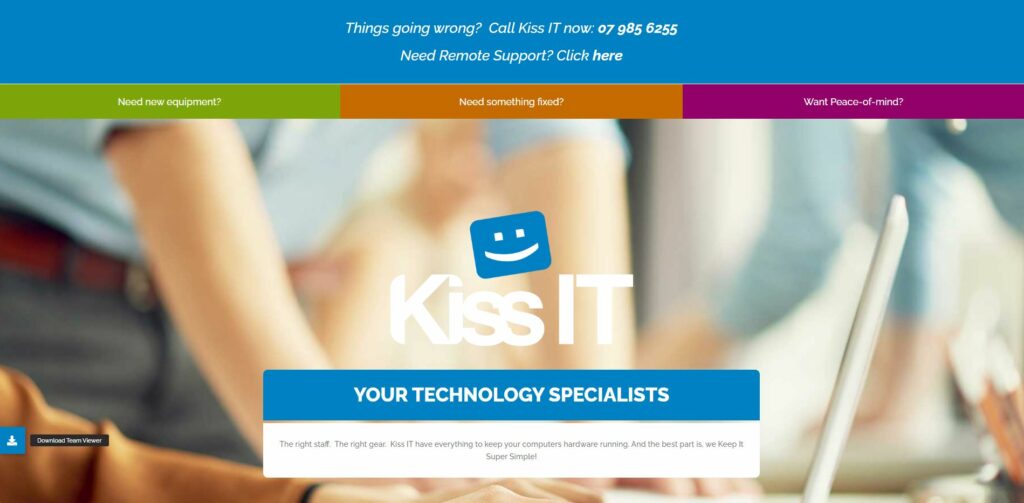 Kiss IT are IT specialists based in Tauranga have everything to keep your computers hardware running.
And the best part is, they Keep It Super Simple!
From custom-built computers to large office networking solutions, Kiss IT do it all.  Their hardware solutions are flexible therefore they suit any sized business. Damaged, dead, out-of-date or simply in need of some TLC?  Whatever the issue with your hardware or software call Kiss IT for your servicing or upgrades.
Kiss IT can help you avoid many issues because their systems can help predict and fix problems.  They're fixing issues before they cause your business problems. They can also can get your business online with their modern mobile-friendly websites. PLUS they have Internet Phone (VOIP) and Internet Security Camera solutions.
Computer solutions
Computer workstations
Servers & local storage
Cloud storage
Remote & mobile solutions
Wireless networks
Software solutions
Security solutions
Repair/upgrade
Repairs & upgrades
Computer & laptop repairs
iPhone & iPad repairs
Network upgrades
Antivirus
Internet security
Data recovery
Monitoring
Computer monitoring & updates
System assessments
What monitoring covers
Internet solutions
Internet solutions
VOIP phones
Security cameras
Website & email
Website design
Contact Details
Email:           support@kissit.co.nz
Phone:           07 985 6255
Address:        Unit 15/ 23 Tukorako Drive, Mount Maungnaui 3116