If you own a small business, there is no doubt that you'll need a cash box. You can't keep all your money in the bank because today it's a given that if a customer pays with cash, you will be able be able to pay them back.
But it's not just small businesses who benefit from owning a cash box. Some people use cash boxes for personal reasons, such as storing items of high monetary or sentimental value. Other people find the compartments useful for separating small items. No longer do you need to get your paperclips and pins in a tangle!
The reason you are searching for a cash box should drive all your decisions. If you just want a cash box to separate your bits and bobs, you don't need a high security cash box with coin slots! Cash boxes for personal use should focus less on security and more on price and decoration.
A great example of a cash box for organising items is this Key-Wise Mini cash box. It's a steal at $13.80. Customers can have a red, blue or green box – whatever suits your home decor best!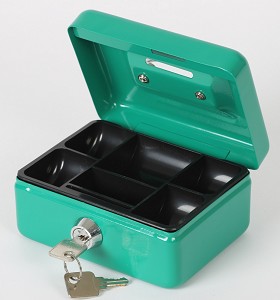 Cash boxes used to store items of high sentimental or monetary value are usually made to be hidden. Because of this, the colour of the cash box matters less. Rather the focus should be on the durability of the box. Also the size of your valuable items should be taken into account.
When storing a relatively large valuable item, you can never go wrong with the Key-Wise Medium Cash box. This box is extra secure with secure, multi-differ cylinder locks and heavy gauge stainless steel.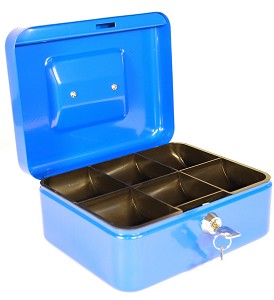 And finally, if you are a business owner looking to store money, look for the most secure cash box possible. Businesses are unfortunately a prime target for theft – your money box is all to valuable to dishonest people. By choosing a durable cash box, you are making it more difficult for those trying to steal your hard-earned money.
The Key-Wise Large cash box is great for businesses dealing with a lot of money. It has secure, multi-differ cylinder locks and heavy gauge stainless steel just like the medium cash box. Except this box will fit your cash better. When in doubt, always buy a cash box one size larger. The worst case scenario on a busy business day would be to run out of space and need to store money in your pockets!
If you're still unsure, ask home security experts Chubb.