When decorating your nest, home and garden magazines will encourage you to lightly dust your home in pastels and faint colours. You know, nothing too loud. This woman calls bull. And just like a bull, she charges when she sees red.
Loena Wilson McCCormack proves you don't need to play it safe with colourschemes. In fact, she has found a way to incorporate bold, dangerous and daring red throughout her house. From a dramatic red glass wall to indoor plants to playful red throw pillows, all of Loena's rooms are touched with red.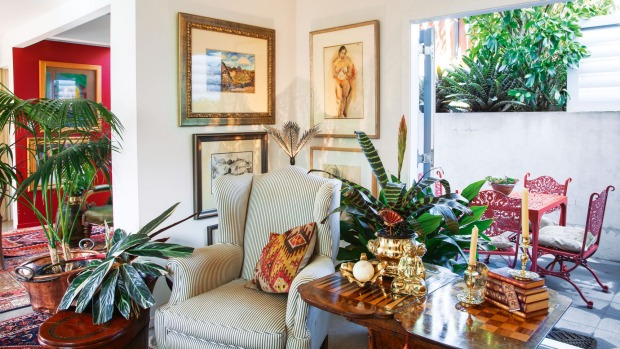 When talking to Stuff.co.nz, Loena attributed her love of red to her own mother;
"I once came home to discover her painting a wall of the family sitting room a colour she described as chartreuse. It triggered a love of the exotic; both the colour and the word had a sense of mystery."
The perfect accessory for Leona's exotic nature is tribal rugs. These rugs are intricately patterned and, of course, doused in red.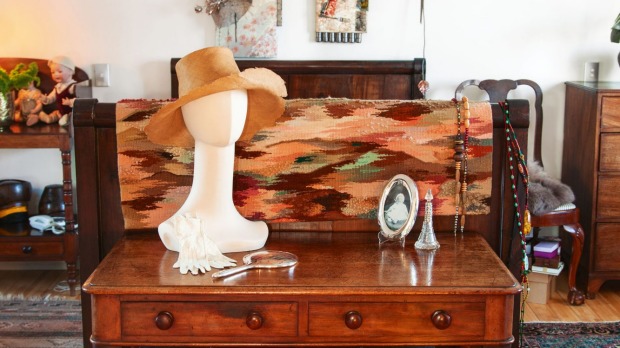 Rules for decorating with red
Leona makes decorating with red seem so easy. But surely this sharp colour must come with it's own user manual, or at the very least, a couple of rules? The truth is, there are no rules. Ignore any blog that tells you add a slice of red here or a touch of red here. Red is a daring colour. And if you're a daring person, it does not matter how much red you use.
While there are no rules for red, there are some general decorating guidelines that can be used for any colour or design element:
Balance is everything. Balance colour, balance space. Learn Feng Shui if you must
Colours evoke certain moods – consider what rooms you want to evoke what reactions.
Red can be bright and sexy. It can also be antique and rustic. Colour is less about it's category and more about it's tone.
Need some inspiration?
Here are some ideas you might just want to steal (or add to your Pinterest boards for future reference)
Patterned red adds youth and liveliness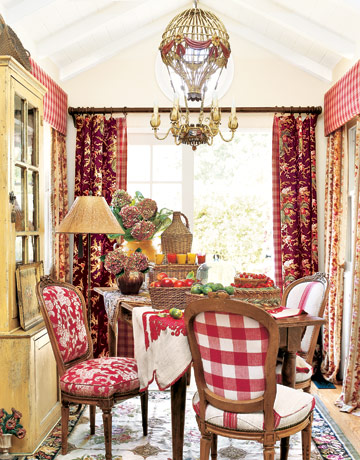 I know, I know, patterns are scary. Red patterns are even scarier. However a bold pattern can bring life and youth to a room that may otherwise seem dull and lacking personality. Keep it classy by using minimally coloured patterns, such as red and white chairs pictured here. Or keep it fun with red, gold and green curtains, also pictured here.
Aye aye captain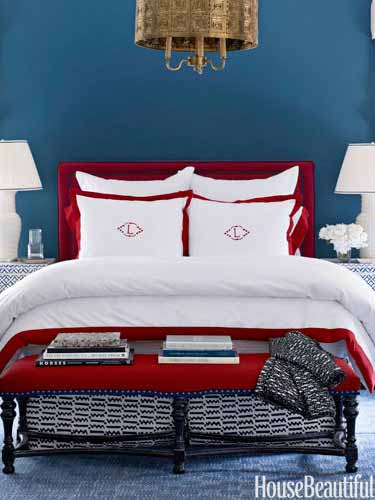 Want to give your bach the ultimate cruise feeling? Nothing says navy nauticals quite like white, navy blue and a touch of crimson. Normally blue and red is a colour combo no-no. However these three work together so perfectly, as pictured. Remember, balance is everything.
Give your Louis Vuitton's a place to strut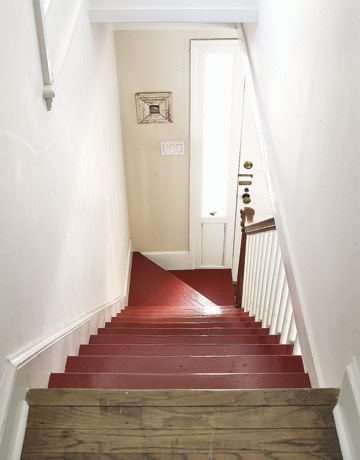 Your favourite red-bottomed shoes will love these stairs just about as much as you do. Painting your stairs a happy shade of red adds vigor to an otherwise dark section of your house.