I was browsing the blog site of Urban Homes recently. They have some wonderful articles and many beautiful homes.
Urban Homes are renowned for building beautiful and quality homes. They have won more Master Builders awards than any other Waikato or Coromandel Builders. They have breathtaking show homes in Hamilton, Cambridge and Whitianga, which have to be seen to be believed.
They wrote an article that got me thinking.
What choices do you have to make when designing a new home that you will live in and love for years?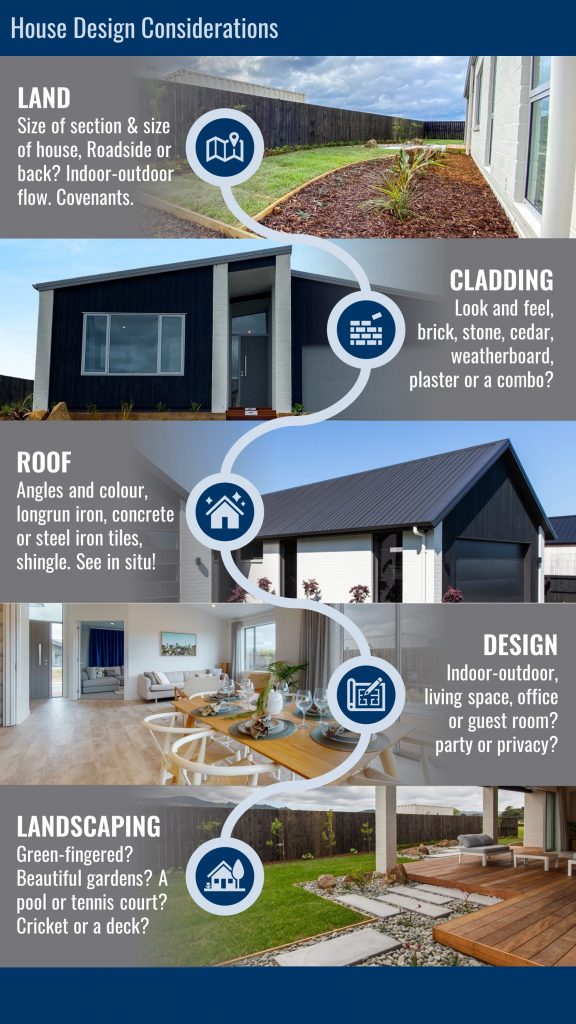 Their article asked great questions and offered excellent advice. I'm not currently thinking of building, but they made me want to!
5 Things
Land
How big a section do you want? And do you want a roadside section or a back section? This is the first thing to consider. You must also weigh this up with the size of the house you want to build. Many sections have a limit as to the size of the house you can build on it. Getting that balance between the size of the house and the size of the section is essential for great indoor-outdoor flow.
Cladding
What kind of look do you want for your house? Cladding is the material used on the outside of the home so it's a big factor in giving your house style. Do you want brick and if so, what type? Or would you prefer stone? Houses can also be clad in weatherboard, cedar, concrete and plaster, or a combination of two or three.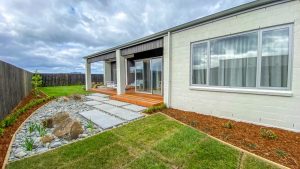 Roof
The roofline of your home will likely be determined by the plan you have chosen, but there is room to incorporate different angles into your roofline and of course, there's a choice of roofing material – Longrun iron, concrete tile, steel tiles and shingle roof are just some of the roofing options
Design
What kind of design do you want for your home? Is indoor-outdoor flow important to you? How much family/living room do you want? Do you want all your bedrooms at one end of the house? Do you want to incorporate an office into the plans? And what about privacy? The design of your home must work for you. 
Landscaping
How green fingered are you? Do you want expansive gardens on your property? A pool? A tennis court? Or do you simply want enough space for a game of backyard cricket? Landscaping can put the finishing touches to your home, but it should be considered as you embark on the design process.
Your Home and Garden
Your Home and Garden magazine also have a list of 5 important things to consider before building your own home
Family size
The best part about a new house is knowing the space will be tailored to fit you and your family. Your social habits and family size should play a big role in the design of your home. Your layout should be intuitive to how you live and entertain. Think about your family life what would make it easier in your new home. Do you want to be near the kids or at the other end of the house? 
Interests/lifestyle
Your home should reflect you and make it easy to do the things you love. Think about your hobbies and the things that make you happy – will you need extra room in the garage for bikes or a boat? Can you have a covered deck if you like having dinner parties and BBQs? Is a connection to nature important to you?
Land
You can't build a home without the land so this point is an important one. Whether you decide to find an empty plot, subdivide your current section, or knock-down and build new, there are a few ways you can get creative when building your dream home. If you've got a piece of land in mind check what type of building it is zoned for with your council, either online or in person.
Once you've sorted your site you'll be able to get clear idea of how the landscape, sun's orientation and surrounding neighbours will influence your final design.
Style
This is the fun bit! From external cladding and windows treatments to fixtures and finishes, start collecting images of home exteriors and interiors you love on Pinterest or in a scrapbook and organise your images into categories – you will notice themes start to appear. Remember to stay practical and keep your budget in mind.
Budget
While sparks of inspiration will keep you motivated throughout your build, it's your budget that is really going to drive the direction of your project. Start by getting a clear idea of your finances and make a wants and needs list. This will help you determine what your non-negotiables are and it will help you to weigh your options if you end up having to make tough decisions.
Gathering ideas
Consumer.org.nz suggest that, before you choose someone to design the house, you need to gather ideas of what you want.
Start collecting together ideas and collate them somewhere that you can easily access to show designers or architects (saving them on your phone or a dedicated file on your computer is quick and easy). Visit shops and websites (such as Pinterest) and get brochures and information sheets on products. You'll need to think about the different types of roofing materials, types of exterior claddings and interior linings, joinery, paint, wallpaper, ceilings, appliances, carpets, taps, etc.
Keep a note of prices as you go – this will help with budgeting later on.
Three approaches to house design and building
Consumer also suggest three common ways of getting a house designed and built are:
Using a group housing company. 
These companies usually provide packages which can include some or all of the following:
the section
standard house designs (which can usually be adapted to your requirements – this may add additional cost).
finance
project management and construction.
Going directly to a builder 
A builder can arrange the drawings according to your instructions. Some building companies offer a design-and-build service that gives a fixed price for designing and building the house. See below for more information about this option.
Custom-designing your home 
Use a registered architect, an architectural designer or an architectural draughtsperson. You'll then need to decide who is going to build and manage the building process. Architects, and sometimes other designers, offer this service.
Where to from here?
If you are thinking of building a new home, here are some suggestions that might help you to process these questions.
Drive to a residential area where you just love the homes.
Download a notetaking app like Evernote or OneNote to your smartphone.
As you are driving around the area, take notes and attach photos of things you like.
Visit a wide range of show homes and do the same.
Keep a diary of things you notice and like for several months.
Sleep on it.
Day dream.
Imagine living in that home, walking through the rooms, doing what you do.
Then go and find someone to talk to about building your new home.
Urban actually make this easy for you as they have an Inspiration booklet that you can download, describing the type of roof, cladding and design used for every build! You can get that here.
Most of all, have fun with it! Its not something you do every day.
If you want to visit Urban Homes show home in Whitianga for inspiration, you will find them at:
Show Home: 7 Awatea Drive, The Waterways, Whitianga
Design Centre: 608 Port Road, Whangamata, 3620
You can read the full advice from Consumer here.